ABOUT ME
Leading exemplary teams and formulating human-centric sustainable strategies for digital products.
For two decades, I've embarked on a captivating journey dedicated to harnessing the power of technology to uplift our lives and nurture our environment. My odyssey commenced during my early teenage years when I joined my stepfather's tech laboratory in Brazil. My education, shaped by hands-on experience across a diverse spectrum of disciplines, has evolved into a focal point – steering design teams through authentic leadership and formulating human-centric sustainable strategies
EVENTS
OCT 06 2023
Navigating new horizons: My Transition from B2C to B2B
While the B2B domain might appear daunting with its intricate decision-making and multifaceted processes I still perceive it as a blank canvas teeming with innovation potential. Drawing from my rich B2C background in companies like Zalando, I will share my journey transitioning to B2B in Get Your Guide. I will dive deep into my learnings as well as unique challenges and immense opportunities in B2B – from creating a design system from the ground up to pioneering user validation methods, steering product definition and catering to decision-makers and users alike.
---
JUL 12 2023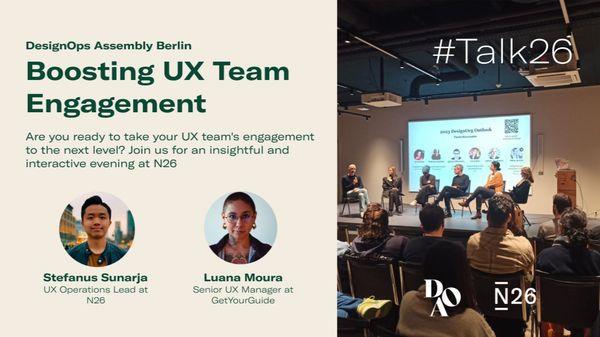 The event hosted at the Berlin N26 office had speakers and a workshop on how to boost team engagement. There, I shared insights from my experience focusing on the essence of authentic leadership. I discussed its pivotal role in fostering team fulfilment, emphasising the importance of genuine interactions and mutuala respect. Through real-life examples, I illustrated how authenticity in leadership not only enhances team satisfaction but also drives innovation and productivity.
At the end the speakers also participated in a very insightful panel and answered questions on the challenges of keeping UX designers engaged.